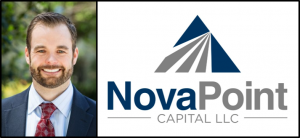 NovaPoint Capital announced today that Jeffery Wright has joined the firm to expand its depth of service for high net worth investors.  With over 9 years of experience in the investment and consulting industries, Mr. Wright brings to NovaPoint Capital a wide breadth of industry knowledge and experience.  Most recently, Mr. Wright served as Vice President, Relationship Manager in the Private Banking and Investment Group at Merrill Lynch where he advised ultra-high net worth investors. Mr. Wright has also worked at Booz Allen Hamilton and the Department of Defense.  He received his Chartered Financial Analyst designation from the CFA Institute in 2014. Prior to his private sector career, Mr. Wright served as an officer in the United States Army, where he served in Iraq as a member of the 82nd Airborne Division and in Afghanistan as a member of the 75th Ranger Regiment.
"I am excited to start this new position with NovaPoint Capital and look forward to working with the team to further develop the firm's client relationships and investment strategies.  I am fortunate to be joining a growing company that prides itself on a disciplined approach to investment management and serving clients with the highest levels of integrity," Jeff commented.
Alan Conner, President of NovaPoint Capital said, "We are very pleased to have Jeff join NovaPoint Capital.  His wealth of experience and industry knowledge are indicative of our commitment to bring seasoned professionals to the firm to build our team".
"Jeff makes an excellent fit with our firm's culture.  I am proud of his military service and his post-service dedication to excellence in the investment industry as evidenced by his CFA designation," said Joseph Sroka, Chief Investment Officer at NovaPoint Capital, a fellow Army veteran and CFA charter holder.
About NovaPoint Capital
NovaPoint Capital is an investment management and advisory firm based in Atlanta, Georgia.  The firm was founded in 2015 by Alan Conner and Joseph Sroka.  NovaPoint manages investment portfolios for institutional and individual investors.  For more information, please visit http://www.novapointcapital.com.