Despite see-sawing news over the progress of stimulus talks and President Trump's COVID recovery, U.S. equity indices managed to post an impressive gain for the week. The Dow Jones Industrial Average was +3.3%, the S&P 500 Index was +3.9%, and the NASDAQ 100 Index was +4.2%.
After several weeks of election and COVID-driven news, its finally time to hear from individual companies as the third quarter earnings reports start flowing this week. Current expectations are for third quarter earnings for the S&P 500 to be down 21.0% year-over-year versus the 30.6% decline for the second quarter.  The current estimate for calendar year 2020 earnings is down 19.6% and the estimate for calendar year 2021 earnings is growth of 27.4%.
While not making the same strides seen over the Summer, the weekly employment data continues to improve each week. Initial unemployment claims for the week of October 3rd were 840,000 versus the previous week at 849,000. Continuing Claims for the week of September 26th were 10.976 million versus 11.979 million the week prior. The U.S. economy has recovered approximately half the jobs that were lost during the peak of the COVID in the Spring.
In our Dissecting Headlines section, we frame a sector level look at the upcoming third quarter earnings.
Financial Market Update

Dissecting Headlines: Sector Outlook for Third Quarter Earnings
Third quarter earnings season kicks off this week with most of the major banks as well as some other large companies scheduled to report. Earnings are forecast to be down 21.0% year-over-year.
All eleven S&P sectors are currently expected to report down year-over-year earnings. The least negative are Info Tech (-0.5%) and Healthcare (-2.0%). The most negative are Energy (-114.9%) and Industrials (-65.5%). The Energy sector which only comprises 2.1% of the Index has a 3.9% negative drag on overall earnings, -17.1% ex Energy versus -21.0% for the Index as a whole.
Forecasts have been inching up heading into the reporting season. It will be important to hear how companies are recovering from the COVID and their outlooks for the fourth quarter and 2021.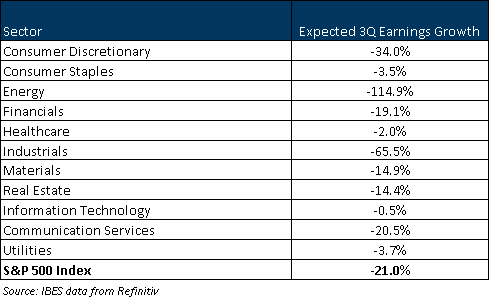 ___________________________________________________________
Want a printable version of this report? Click here: NovaPoint October 12, 2020
To learn more about these topics and our investment strategies, call us at 404-445-7885 or contact us here.
Do you understand your personal investment risk tolerance and the risk of your current portfolio? You can learn these by taking our Risk Analysis Questionnaire.